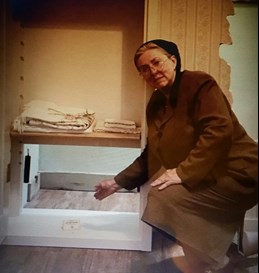 Everlasting Nation Museum  Hixson, Tennessee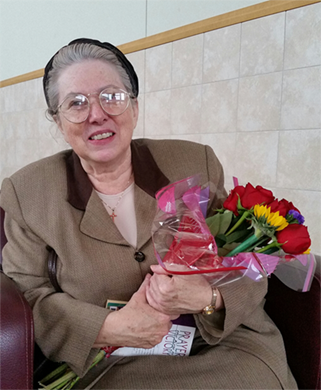 Corrie Ten Boom

Holocaust survivor
It is a privilege and inspirational challenge to 'walk in Corrie's shoes', if only in costume and presentation...

Corrie ten Boom was born on April 15, 1892, in Haarlem, Holland. The youngest of four children, she grew up in a home rich in love. Her mother's three sisters shared the humble Ten Boom home that also housed the family business, a watch shop. Like her grandfather and father, Corrie was a watchmaker. In fact, she was the first licensed woman watchmaker in all of Holland. Corrie's brother, Wilhelm, and sister, Nollie, married and had families of their own. Her older sister, Betsie, chose not to wed due to her ill health. After the passing of her mother and three aunts, Corrie and Betsie lived in the house of their birth with their father caring for one another and running the watch shop.

From early childhood, Corrie observed her parents' lifestyle which demonstrated the value of every life, regardless of color or creed. Devout Christians, the life of Corrie and her family was one of routine and peace until 1940, when the Nazis invaded the Netherlands. In 1942, she and her family became very active in the Dutch underground aiding and hiding Jews. In the Ten Boom home, a secret room was built into Corrie's third floor bedroom. Entering through a sliding panel in a closet, their refugees had to crawl in on their hands and knees to hide in the 30 inch deep medium wardrobe. In addition to the hiding place, an electronic buzzer was installed to warn the residents in the event of a raid.

On February 29, 1944 the Nazis raided the ten Boom house. Six people escaped detection in the secret room, but Corrie, her father, sisters and brother, along with some 25 others, were arrested for their work with the resistance.

While most of the family members were released, Father ten Boom, age 84, died in prison after 10 days. Corrie and Betsie were held for ten months in 3 different prisons. In September of 1944, the sisters were transported like cattle in boxcars to Ravensbruck, a concentration camp in Germany. There they were exposed to the deplorable conditions, humiliations, hard labor and cruel beatings experienced by all individuals interned within the camps. In spite of the hateful environment, Corrie and Betsie delivered the message of God's love to their fellow prisoners and captors. Malnourished and weakened by the harsh treatment, Betsie eventually died at the age of 59 in early December 1944. Days after Betsie's death, Corrie was released under the pretense of having completed her sentence. She later learned that her release was due to a clerical error and shortly after her discharge, all of the women her age (52 years and older) being held at Ravensbruck were executed.

Corrie returned home to Haarlem, Holland where she set up rehabilitation centers for people of all races and creeds in an effort to bring healing and comfort after the ravages of World War II. Corrie embraced the words of her sister, Betsie, who said, "There is no pit so deep that God's love is not deeper still". Over the next 33 years Corrie traveled to some 60 countries, sharing a message of hope, forgiveness, and love.
The nation of Israel honored Corrie ten Boom naming her 'Righteous Among the Nations'. She was also recognized for her work in the Netherlands and knighted by the Queen. A museum in Haarlem is dedicated to her and her family. Many books have been written by Corrie and a deeply moving film, "The Hiding Place", was produced by World Wide Pictures in 1975. She spent her latter years in Orange, California and although successive strokes left her an invalid, all who visited Corrie commented on the peace and presence of God that she continued to emanate. A remarkable woman in many aspects, she died on her birthday –April 15, 1983 – at the age of 91.

It is an honor and pleasure to continue her ministry of love and reconciliation through "A Visit with Corrie".